Elke Walter Design Materialized in Provence
Attracted to Provence by the sun, Elke Walter is clear that the weather is better than in her birthplace Hamburg, Germany. Elke began designing clothing in the 1990s in France, and her business Elke Walter Design was officially launched in 2002 when she opened her atelier in Hamburg.

Elke describes her work as purposely unconventional; she does not draw her creations on paper. Instead, she visualizes them in person using live models and mannequins. Her fashionable creations run along three tangents ONE OF A KIND, ESSENTIALS and MAKE MY DAY accessories.

Now living under the spell of Provence's cobalt skies and sun-filled days Elke says she that gathers inspiration for her work from the beautiful surroundings and the people she meets. The relaxed pace of the Provencal way of life and its inhabitants that are in her words more "playful." This is what keeps Elke in the region and feeds her creative side.

According to Elke, the availability of artistic resources and colleagues in Provence is almost limitless from locals to expats.  She finds the artistic community that surrounds La Friche la Belle de Mai in Marseille completely inspiring.
To see more of Elke Walter's work check out her website here or better yet meet her in person in November (details are below) at this three-artist vernissage.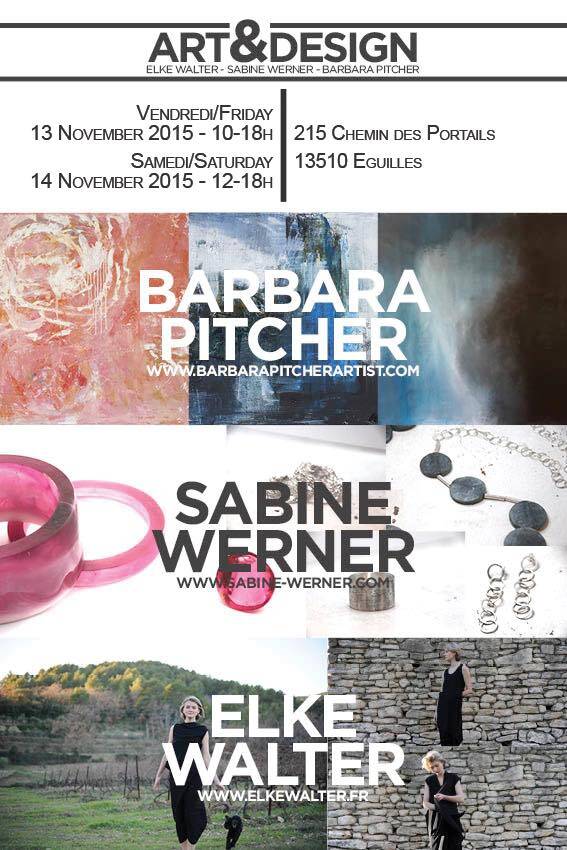 The Art and Design Exhibition
Nov 13 & 14, 2015
215 Chemin des Portails
Eguilles, 13510