Book Review: Living in Provence
This beautiful art book illustrates the many different ways people choose to live in Provence. It is part of a "Living in…" series of publications about living in different parts of the world including places like Tuscany or Bali. This particular volume was published in 2012 to celebrate the 25th anniversary of the Taschen art book publishing house, founded in Cologne by a young German named Benedikt Taschen whose goal was to democratize the art book market. His idea was to provide "cultural enlightenment" to the general public, by publishing limited but affordable editions of lavishly illustrated books on art in its various manifestations.
Exquisitely illustrated, Living in Provence is written in three languages: English, French and German. It is the work of Barbara and Rene Stoelite, a writer and a photographer respectively, who began their careers as artists and gallery owners, and collaborated on interior design articles for publications such as Vogue, Country Living, and House Beautiful.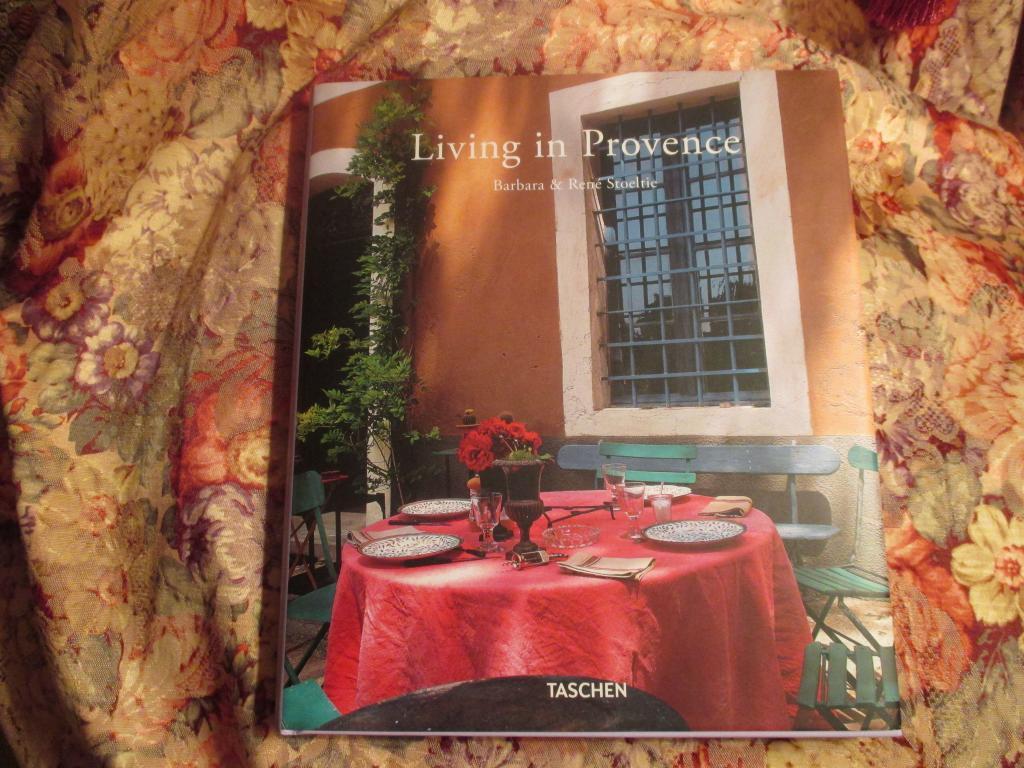 The book begins with a chapter entitled "John Burningham and Helen Oxenbury: Drome Provencal" that describes and illustrates with superb photographs the house this couple bought and renovated at the foot of Mont Ventoux. The camera moves from the exterior where a vineyard stretches out lazily in the sun, to the interior with its vast stone hearth and eclectic art collection. "Throughout the days and deliciously long evenings, Caruso's magical vocals issue from the papier-mâché funnel of a 1930s EMG gramophone" and echoes throughout the countryside!
Twenty more chapters follow in which the author and the photographer tell the stories, in words and images, of people and their Provençal houses which reflect their unique tastes and personalities. There are chateaux, and bastides, and hotels particuliers. There is a glamorous villa with a breathtaking view of the Baie des Canoubiers in St. Tropez, and a "maison troglodyte" with a vaulted living room carved directly into the rock, in Menerbes in the Vaucluse.
The home of Frederic Mistral, Provence's celebrated poet, who won the Nobel Prize in Literature in 1904, is also part of this collection. Located in Maillane, in the Bouches-du-Rhone, it was willed by Mistral to the local commune and is open to the public. The living room is filled with statuettes and its walls with family photographs and small water colors. A sense of warmth and comfort pervades the place. Mistral's motto in Provencal was "Lou souleou me fai canta" or the sun makes me sing, a fitting tribute to Provence!
Then there is the story of a 17th century bastide, located in a village at the foot of the Alpilles. It is in a perfectly good condition but its new buyer wants it turned into a ruin! He hires an internationally renowned interior decorator to do just that. "The aim was to restore the magnificent Provençal 'bastide' to its original pale stone glory…" The photos show that the experiment succeeds, although the beauty uncovered is rather stark, and seems more appropriate to an architectural museum than a lived-in home. The grounds however, are splendid: lush and filled with roses of every color and variety. A small sign behind some watering cans reads "more than anything we must have flowers, always, always."
Each chapter tells of a different passion, a different way of living, loving, experiencing Provence. The images fill your imagination with possibilities for your own little corner of paradise, while the text leaves you curious to know more about those who have already found or created their own.