Allez! Allez! Provence en Vélo
Provence: just one word conjures visions of endless blue skies, charming villages and miles and miles of smooth roads to be ridden. One of the things I miss most when not in France is riding my bike. I know, I know… you're thinking, what? Don't you miss the food, the wine, the culture? Of course I do, but one of the things about riding a bike in Provence is the complete sensory experience it provides. You actually feel the sun and wind kissing your skin, you smell the intoxicating scent of lavender as you pass by the fields, and you hear the cicadas intense chirping emanating from stands of pin parasol trees. And when you've gone 60 km in searing heat, that crisp, cold après-ride beer never tasted so amazing! Cycling heightens all your senses, and for me it's the closest thing there is to flying. It makes me feel free and alive.
You cannot experience these things while tightly wrapped up in an air-conditioned vehicle. En vélo is the most authentic way to experience Provence, in all its sights and sounds. And don't you worry; it's even rather safe. Yes the French drive like madmen, but there's a method to their madness once you figure it out. They are very considerate to cyclists and are so used to driving around them, there really is no stress whatsoever. Watch out for the tourists though (sorry, but those Belgians seem to be the least generous, which is odd given they are a cycling nation). Indeed, after August cycling is even more pleasurable.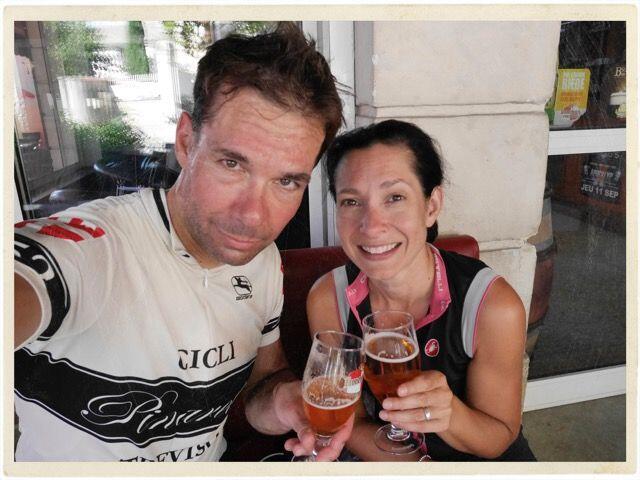 So here's what I love about how they do it in France: they love the bicycle. This wondrous machine is not relegated to small children or reprobates who can't afford a car. No, in France cycling is an essential form of transportation for all members of society at any age—including senior citizens—and a revered and honoured sport. For those that have never thrown a leg over a bike, you might not understand why the Tour de France is the world's most difficult sporting event, or how climbing up the cols and mountain passes of France, Italy and Spain is not for the faint of heart. It's for people who are tough; people who have passion and people who want to challenge themselves. Having ridden my bike all over Canada and Europe, I can say that there is nothing finer than having a chance to ride one in France. It's simply brilliant.