Shutters and Sunflowers the Provencal Landscape
Admittedly, it would be a tough choice for anyone to pick between, between the lush gardens of the UK, the sunny skies of California and postcard perfect Provence. Caroline Longstaffe's solution was to start writing a blog Shutters and Sunflowers her artistic outlet for west coast beauty, British heritage and the villages of Provence.
We had to find out more…
Caroline agreed to an interview and to share with readers how an English girl from California ends up living in Provence.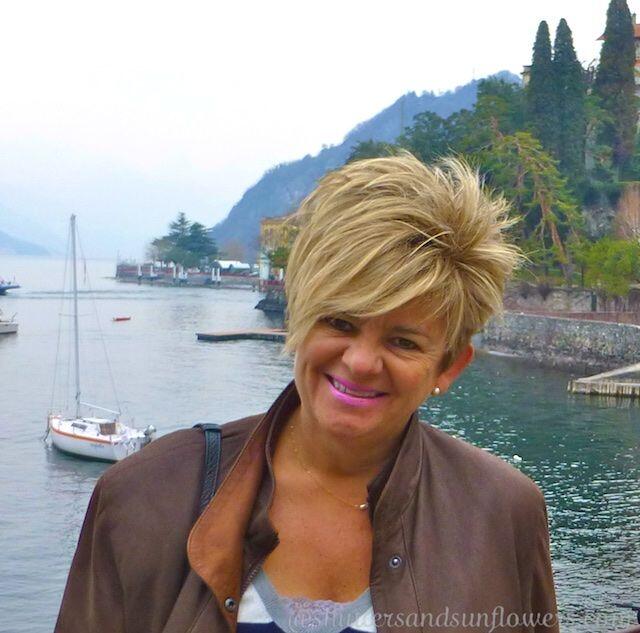 It took three tries before California finally convinced the Longstaffe family to settle down within the State's lines. A job transfer to Los Angeles in 1985 was the toe in the water (so to speak) – their initiation to the joys of SoCal's sun-drenched lifestyle. There was another chance to visit in 1993, this time to live near San Francisco with their two small children. Finally, in 1999 the family committed to San Francisco and made it their home away from home. Caroline says,
"With all our family in the UK it was a difficult, emotional decision; life isn't black and white, I left knowing I would have regrets, but also knowing that if we didn't go I would regret it forever."
So what does this have to do with Provence? We asked Caroline how they ended up in Provence in 2012.
Long before we had ever lived in California, we had nurtured the dream of buying property in France. Over the years, we spent countless holidays staying in different areas to find that one 'special place'. We operate our own international sales training company and can be based anywhere where there is an internet connection! So, with our daughter studying for her Ph.D. in Bristol, England and our son studying at the University of Copenhagen it seemed an ideal time to move nearer our children and follow our dream of living in France!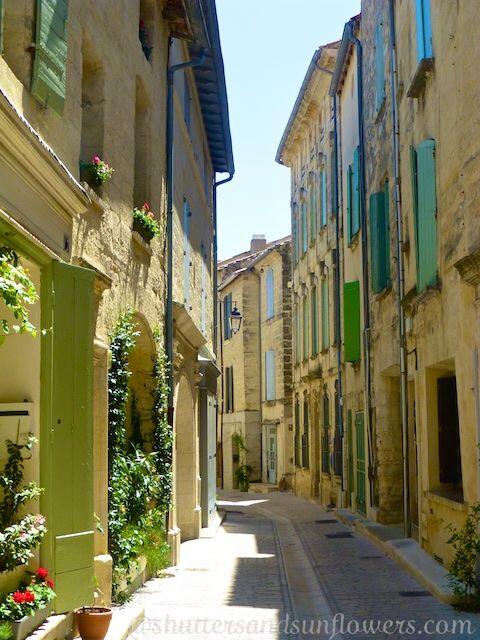 They chose Uzès, which was in reality their second choice, but might now tie for first with Lourmarin. How so?
We had first visited Uzès in July 2004, only having time to stay for lunch, but we were charmed by its elegant squares and gently worn, golden, streets. However, in 2004 we had not yet discovered Lourmarin. It was five years later when we arrived in this tiny, picturesque, medieval town, nestled in the hills on the south side of the Luberon Valley. It truly felt like coming home that this was 'the' place, the one we had been searching for. In all honesty, our original intention was to rent in Lourmarin. However, being a much smaller place than Uzès the property selection was limited, so when we discovered a delightful property in Uzès and chose that instead.
According to Caroline, Uzès is an
"Enchanting town, deeply rooted in history, quickly seduced us; the magnificent Ducal Castle, Cathedral, Renaissance mansions and at its heart, Place-aux-Herbes. Fringed with splendid stone arches one could sit here for hours enjoying the gentle chuckle of the fountain, becoming immersed in the local bustle."
During their stay, Caroline, and her husband embraced local life, tempted by the restaurants in Place aux Herbes, the annual truffle fair, art and pottery exhibitions, brocantes and the weekly markets.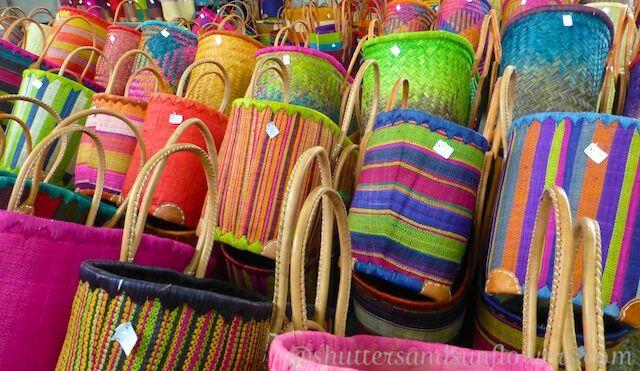 Between January 2012 and May 2013, the Longstaffe's spent 18 months in Provence. Now they are torn between Uzès and Lourmarin, and Caroline is enamored with both shutters and sunflowers. This is how she describes life in Provence:
"Provence was like stepping into a story; slower and gentler, where people seem to have the time or maybe make the time. There appeared to be less striving, more contentment, accepting what you have rather than being on the never-ending quest for more. Life seemed simpler, more about living the journey not waiting to get to the destination, something I so try to embrace!"
As idyllic as life in Provence sounds, Caroline admits that they were shocked by how cold the winters can be with the bitter, chilly Mistral.
What are your favourite things about Provence?
The lifestyle, as previously described, the timelessness, the history, its cobbled streets and golden stone, shuttered buildings, the gentle weekly rhythm of each town we lived in as it became busier with the passing of the days, culminating in its weekly market. On Market day, the whole village seemed to gather, a bustling array of vendors selling local olives, cheeses, honey, flowers and mouth watering fresh fruit and vegetables among brightly coloured linens, baskets and other Provencal treasures.

What brings you back to the region?
Simply put I love it! It is a breathtakingly beautiful area, understandably beloved by many. Lanes flanked with poppies, lavender, sunflowers, olives groves and sprawling vineyards, crumbling buildings, meandering cobbled streets, bustling cafes and restaurants. I love being woken each morning to the gentle chiming of the church clock, throwing open the shutters to blink at the captivating Provencal light (the inspiration of many artists, Van Gough, Matisse, Gaugin, Renoir, Cezanne and Chagall). It fills my soul.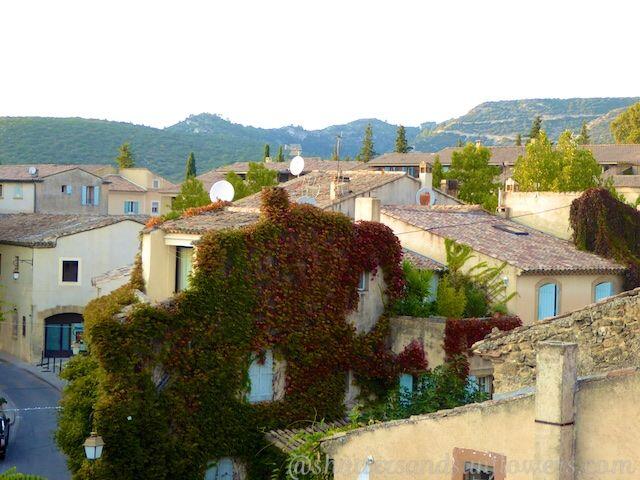 As mentioned above, Caroline started writing her blog Shutters and Sunflowers while they were living in Provence. This is how she describes her blog,
"I write when a place touches my heart, because of its beauty or maybe its history. Places that make me curious inspiring me to want to discover their story to learn about the people who have lived there, the past and what makes them tick today. I feel compelled to write to share with others my discoveries perhaps inspiring them to travel there too and I love nothing more than being asked to help plan people's own trips. I write from my heart, sometimes sharing perspectives on life, recipes, things that have sprung to mind as I go about my daily life, things I want to tell others about, I write because it makes me happy."
You can follow Caroline's Provence posts here.
Image Credits: All images provided by and published with the permission of Caroline Longstaffe