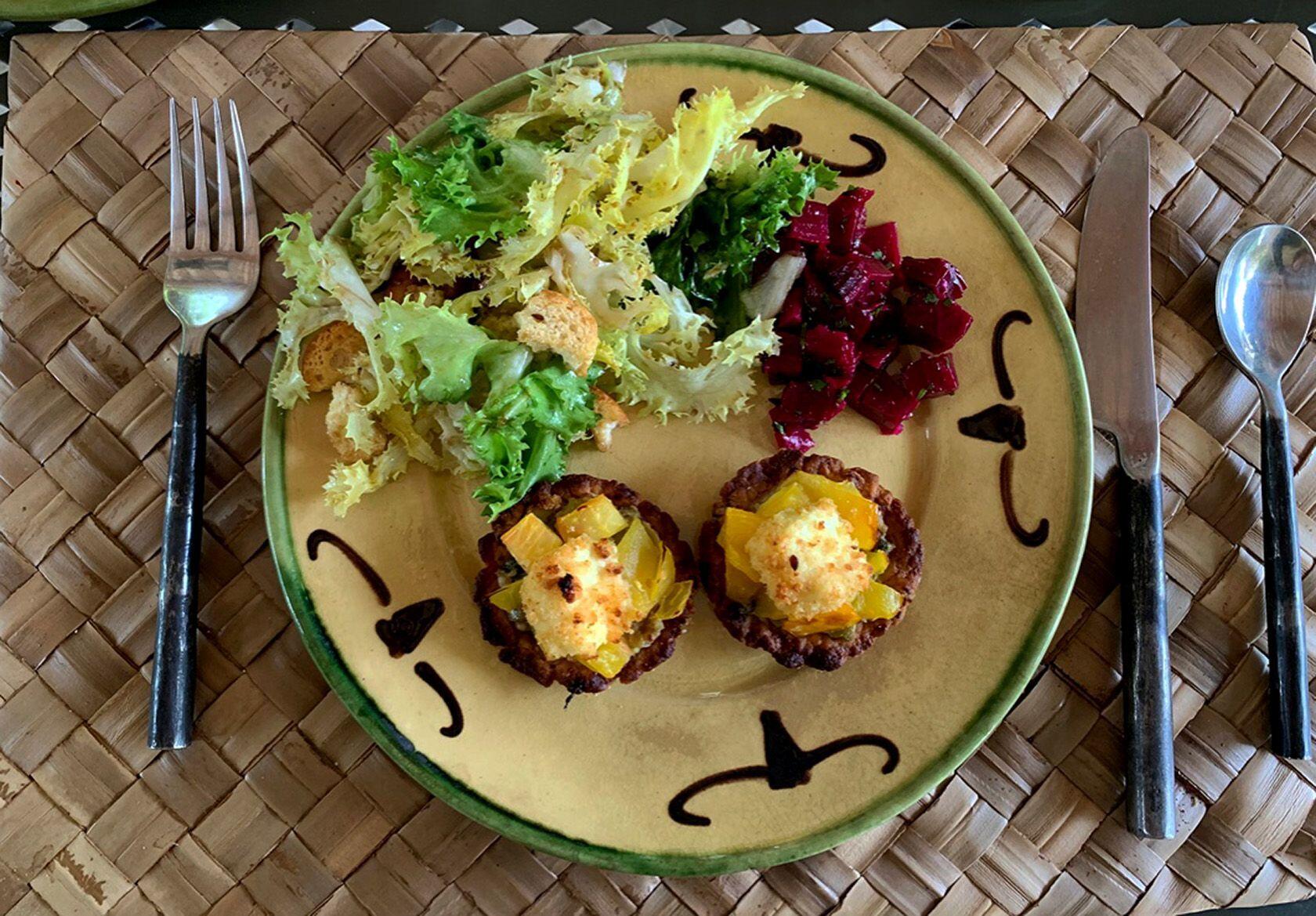 Tomato Olive Tarts - Appetizer
There are a few steps to this recipe, but don't be put off. There is nothing complicated, and you will love the result. As a bonus, the little tart shells are a bit like savoury shortbread so you can serve those on their own. And, if you make too much olive tapenade, it will keep for a few days in the fridge.
For the Tomato Tart:
250

g (1 cup)

Flour

125

g (1/2 cup)

Grated parmesan cheese

125

g (1/2 cup)

melted butter

1

Egg

a pinch of

Salt

3

heirloom tomatoes

washed and chopped

2

tbsp

Dijon Mustard

olive oil

to taste

Salt and Pepper

a small bunch

Fresh Thyme
For the Green Olive Tapenade:
350

g (2 cups)

Green Olives

pitted

50

g (2 oz)

Pine nuts

lightly grilled

a handful of

Fresh Basil

washed

1

can

Tuna in oil

drained

2

tsp

Capers

50

ml (1/4 cup)

olive oil

Pepper
Topping and Serving:
2

rounds

fresh goat cheese

2

cups

Mixed Greens
Prepare the Tart Shells:
Mix the flour, parmesan cheese, butter, egg and salt all together until combined.

Shape dough to the size of your molds (muffin tin or another pan).

Bake 10 minutes at 350F° to brown slightly.

Once out of the oven, spread 2 tablespoons of Dijon mustard on the crusts.

Chop the tomatoes and put aside.
Prepare the Green Olive Tapenade :
Taste an olive and if too salty soak them in a bowl of water for an hour.

In a mixer, add the drained olives, tuna and capers, the slightly grilled pine seeds, a handful worth of fresh basil leaves, olive oil and pepper.

Mix it all together to form a paste.

If the mixture is too dry add a little more oil.
Prepare the Tarts:
Scoop the tapenade into your pastry shells.

Add the chopped tomatoes on top of the tapenade.

Drizzle with olive oil, add salt, pepper and thyme.

Top with a piece of goat cheese.

Put the tarts back in the oven for 25 minutes.

Serve barely warm with seasonal lettuce.