Why Toulon France is Worth Visiting
Is Toulon worth a visit?
Toulon doesn't have a good reputation as somewhere to visit; in fact, internationally, Toulon doesn't really have a reputation at all, whether good or bad. Despite being the 3rd biggest city in the PACA region and situated mid-way between Marseille and St Tropez, most foreign visitors to France have never heard of it. As for its reputation in France, it's known for rugby, the Navy and ferries to Corsica but not tourism. So is Toulon worth a visit?
Yes! Continue reading here for the original contributor blog post by Phoebe Thomas at Lou Messuogo.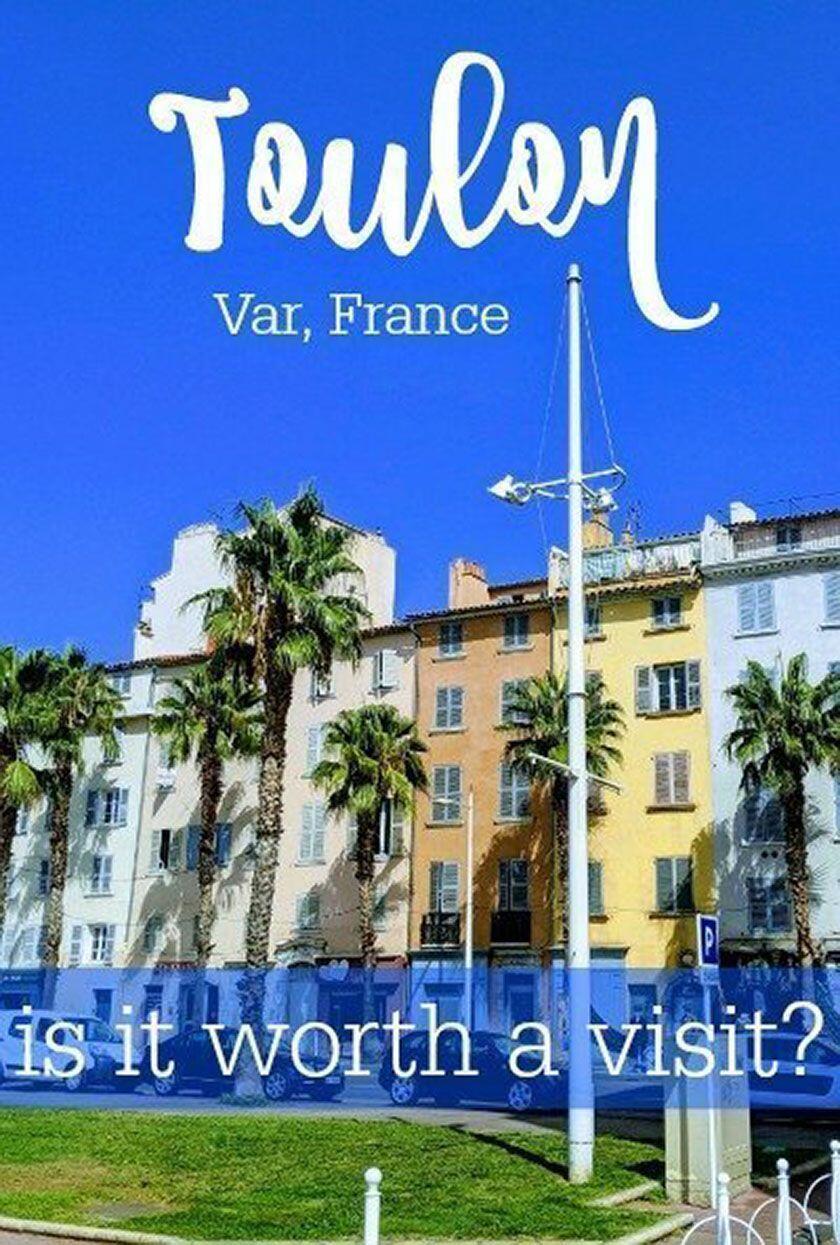 Reasons to Visit Toulon
"Toulon is one of those cities that each time you visit you discover something new, some hidden gem: an art gallery, a vintage clothing store with some seriously great old handbags, an old-fashioned restaurant where everything is made by the chef including the bread, craft beers and, our most recent find, craft gin." ~ There are many reasons to visit Toulon according to author Mary Lou Longsworth
Mont Faron
The summit of Mont Faron is only 584 metres (1,916ft), but the views of the Mediterranean are worth the effort. At the top, there is also a small zoo and a couple of restaurants. Fort Beaumont, one of nine (9) forts on the top of Mont Faron that served to guard Toulon, is a dedicated WWII memorial – Mémorial du débarquement en Provence.
There are several ways to reach the peak on foot, in a car or by cable. For sporty types, there is a 10km hike up the mountain, which takes roughly four (4) hours. It's a good idea to pick up a map with the Toulon area hiking routes from the Tourist office. Access to the top via car is not for the faint of heart; the Chemin du Fort Rouge and Route du Faron is a single lane asphalt road that is in poor condition. The road is very steep (an average of 9% grade), which makes it interesting for cycling fans as it considered one of the exceptional competitive biking climbs in Europe. The easiest and most family-friendly way of reaching the summit is via the cable car – Téléphérique Faron. Open daily starting at 10 am the trip takes six (6) minutes.
The Opera House
You may not automatically connect Toulon with opera. However, le Grand Théâtre de Toulon home of Opéra de Toulon has only 100 fewer seats less the Palais Garnier in Paris. Designed in a neo-classical style by architect Léon Feuchères, the building on Boulevard de Strasbourg opened to the public in 1862. With its graceful arches and grey-pink columns, the opera house in Toulon has been registered as a French historical monument since 1988.
Rugby Toulonnais
Established in 1908, the Rugby Club Toulonnais (RCT), the team moved into a dedicated stadium – Stade Mayol – in 1920. Head to the RCT Café for a bite to eat surrounded by team jerseys and other sporting paraphernalia. The only way to visit the inside of the stadium is to buy tickets for a match. Take a look at the trail of plaques (like a Hollywood walk of the stars) outside the stadium commemorating the team's top players. While you are there, look for the bust of Félix Mayol, the stadium's original sponsor and patron.
Le Cours Lafayette
The Cours Lafayette is a grand boulevard that dates from 1830, the result of an urbanism project that removed prior medieval construction. This street is the location for Toulon's daily food market (closed Mondays). The Cours is also home to the famous cannonball affixed to a wall, one of the Secrets of Provence found in Jean-Pierre Cassely's book.
Ride the Petit Train
Included in the Toulon pass, available at the tourist office, is a ride on the petit train. It's an excellent way to see the city, just like in Marseille and Aix-en-Provence, and enjoy some historical commentary during the ride.
Les Plages du Mourillon
Head to the beach. The beach in Toulon is a perfect spot for family activities. There are several options for food and some 1300 parking spots. The landscaping is attractive, and the play areas include mini-golf, a skateboard ramp, beach volleyball, a space for boules and much more.
Museums
There is a museum for every interest in Toulon from the arts to maritime history to antiquities. If you only have time to visit one museum, head to the National Maritime Museum of Toulon with its collection of model ships and recognition of the city's naval history.
Musée National de la Marine Toulon
Place Monsenergue, Quai de Norfolk,
83000 Toulon
Closed on Tuesdays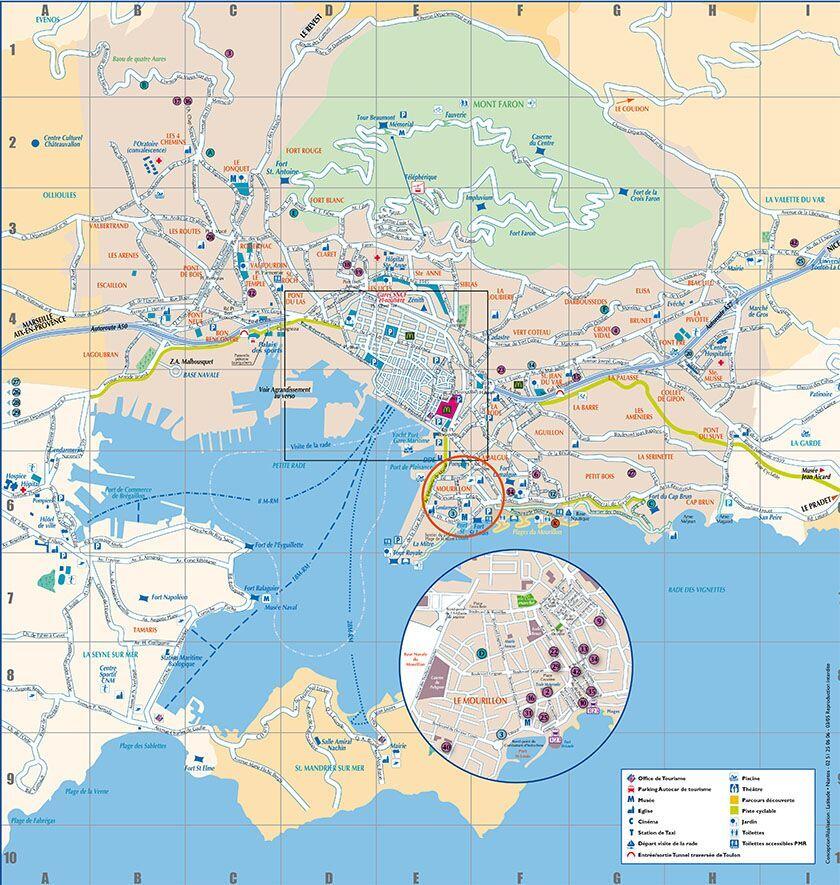 Eating and Drinking in Toulon
Discover small-batch gin at Cicada le gin de la Distillerie de Toulon in 4 Place Gambetta.
Enjoy chocolate in the shape of cannonballs (boulets du Cours Lafayette) at Le Caillou du Faron on Avenue des Meuniers.
The sports bar-restaurant for rugby fans RCT Café Mayol on la Place Besagne is open Monday-Saturday and for every match.
Le Chantilly is where you find locals who like good quality food. Reservations are necessary at this popular restaurant on Place Pierre Puget.
Discover the food trucks located in and near Toulon.
Preparing to Visit Toulon
Tourism Office (website)
12, place Louis Blanc
83000, Toulon
Buy the Toulon City Pass to take advantage of discounts. The passcard includes public transport (bus and boat) within the city, access to the le Musée national de la Marine, a ride on the cable car and more.
Please share this with friends and family.