Fig Tart with Marzipan
This recipe for a delicious fig tart comes from our friend Nito Carpita, a classically trained chef. The figs are baked in a sweet custard – just try to resist!
Nito and her husband David ran Mas Cornud for many years combining the activities of a B&B with a first class cooking school.  After two decades, they decided it was time to take life a little slower. You can read more about how an Egyptian born chef and a Montana banker end up in St Remy de Provence in this post — cooking with Provencal style.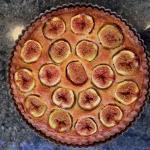 This tart is relatively easy to make and absolutely a crowd favourite.
| | |
| --- | --- |
| | This tart is relatively easy to make and absolutely a crowd favourite. |
Mix with a hand-held beater or food processor: almond powder, sugar, flour, butter, egg, egg white and vanilla extract. Mix until the batter becomes creamy.

Pour batter into the baked tart shell and level with a spatula.

Place figs cut side up in the creamy mixture, pressing them gently in two or three circles, leaving a small space between them.

Dust the figs with powdered sugar.

Bake in a preheated oven - @ 350F (180C) degrees - until the surface of the figs caramelizes and the batter puffs up. About 35-40 minutes.

Remove from the oven, let the tart cool slightly in the pan before placing it on a rack to cool completely. Cut and serve.
Placing the figs cut side up helps prevent the pastry from becoming soggy. When figs are out of season this tart can be made with other stone fruit, such as apricots, peaches, nectarines or plums.
Please share this with friends and family.