Cycling on the French Riviera and Beyond
Cycling on the Côte d'Azur and its backcountry is one of the most popular pastimes of both residents and visitors alike. It's not a coincidence that many of the world's top pro cyclists are based and train in the area. The geography and climate make it an ideal cycling region.
However, cycling here is certainly not just for professionals and the super fit. If you enjoy cycling holidays or just cycling on your holiday, you'll love the varied terrain of the Côte d'Azur. With flat coastal routes through to steep mountain climbs, there is something for every level of cyclist. Continue reading here for reasons to pick the self-catered apartment at Lou Messuogo for your French Riviera cycling holiday.
Cycling French Riviera:
The Conseil Générale publishes some excellent guides both online and in paper formats. These Alpes-Maritimes à vélo route guides include options for all levels, and various distances from family-friendly (flat, short) to sporty (hills and more hills).
The cyclist-friendly area in and around Nice is worthy of La fédération française de cyclotourisme (FFCT)'s label ville et territoire vélotouristique. The Cycle Tourism City designation makes visiting Nice a pedalling pleasure with 125 kilometres of pathways and cycling lanes. Pick-up a Vélobleu and ride along the Baie des Anges and around the city or join a tour of the city on two wheels. Here is the Nice tourism office link.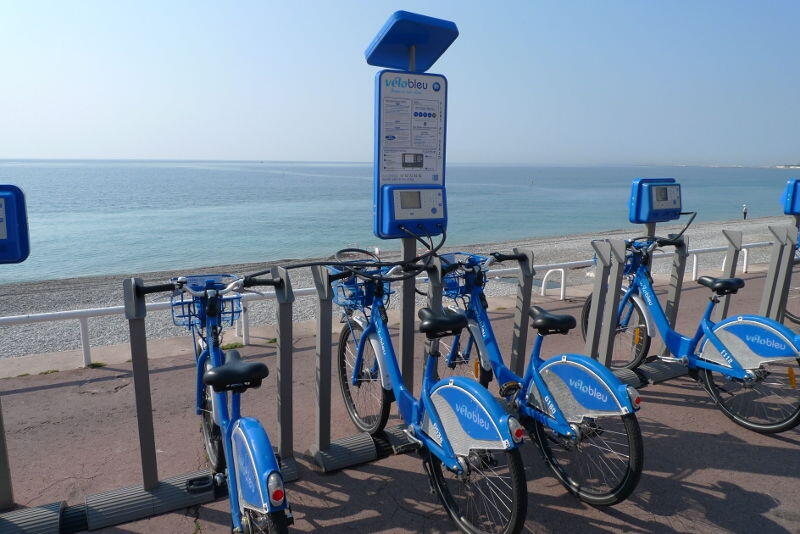 Depart from Saint-Raphaël (or Mandelieu-la-Napoule) and discover the Corniche d'Or and the Estérel Massif in a 60-kilometre loop. With panoramic views of the Mediterranean and the ancient volcanic features of the massif de l'Estérel. There are a few rolling hills and a climb up the Col de Testanier with plenty of remarkable scenery along the route, including ochre cliffs and la Pointe de l'aiguille.
Cycling Haute Provence:
If you like mountain biking (vélo tout-terrain (VTT)), then Dignes le Bains offers plenty of challenges. Dignes les Bains shares the same honour as Nice with the label ville et territoire vélotouristique. Explore 600 kilometres of biking trails in Val de Durance. These rolling hills on the western edge of Haute Provence offer plenty of fun off-road riding. Check the Dignes les Bains tourism website here for additional details on routes, guides and rental options.
There are several point-to-point routes (Grandes Traversées VTT). Here are two of these multi-day adventures:
Les Chemins du Soleil – From Lake Geneva (Léman) to the Mediterraean this 1000 kilometre route traverses Sisteron, le Vallé de Durance and Digne-les-Bains.
L'Alpes Provence – with 300 kilometres of alpine summits and descents, this route is perfect for keen cyclists.
Cycling Alpes de Haute Provence:
If you imagine yourself climbing the same hills as the Tour de France professionals, then put the seven (7) summits of the Vallée de l'Ubaye on your biking bucket-list. The routes are well-marked with indications for kilometres to the peaks, altitude, and gradient. Discover these classic climbs:
Col de la Bonette (2715 metres)
Col de Vars (2108 metres)
Col de la Cayolle (2326 metres)
Col Saint-Jean (1333 metres)
Col d'Allos (2250 metres)
Montée de Sainte-Anne (1840 metres)
Col de Pontis (1301 metres)
Stop by a Vallée de l'Ubaye tourism office for detailed maps and current information on road conditions.
Please share this with friends and family.